Cleanroom gloves are used primarily to protect critical products, such as vaccines and pharmaceutical drugs, and the cleanroom environment they're manufactured in from contamination, as well as safeguard the wearer from exposure to harmful chemicals. When choosing cleanroom gloves, it is important to consider a variety of factors, such as the quality and regulatory standards they meet, the cleanliness levels, the technical testing they have undergone and then the gloves physical properties including length. Cleanroom gloves are available either sterile or non-sterile, but not all sterile gloves are equal, it's important to note that a sterile surgical glove is not suited to cleanroom applications as it will not necessarily be clean (washed) for cleanroom compatibility. Significant differences in the packaging and processing of sterile cleanroom gloves make them the only suitable choice for critical cleanroom applications. By selecting the appropriate glove for the application, manufacturers can better protect their valuable products and processes from harmful bacteria, particles, and ions; improve overall product integrity; and minimize risk.
In the following article, we will explore the differences and explain the significance of glove length, the benefits of longer cleanroom gloves, and how to make an informed choice based on specific needs.
What's the difference between sterile cleanroom gloves and sterile surgical gloves?
Clean & Sterile Gloves (Cleanroom - PPE)
Sterile Gloves (Surgical-MD)

Goal

To protect the product, process and environment from contamination

To prevent cross contamination between wearer and patient

Post-Processing

Clean processed using deionized water

Packaging

Packed in a cleanroom
Plastic packaging (non-linting) with cleanroom configuration; double bagged system and carton liners to meet cleanroom requirements, transfer and handling

Packed in a controlled environment
Packaging components and configuration does not consider cleanroom requirements, transfer and handling


Quality Testing

Enhanced quality performance control in particle count and ion count

Does not factor particle count and ion count
Understanding Cleanroom Glove Lengths
The length of cleanroom gloves plays a crucial role in the level of protection they provide. Depending on the specific application, varying lengths can serve different purposes, ranging from covering just the hand to extending up to the elbow or even the upper arm. The length of the gloves should be tailored to the task at hand, ensuring that they provide adequate coverage to prevent contamination and protect the user. Below, we explore the common lengths of cleanroom gloves and their respective applications:
Standard Cleanroom Gloves
The standard cleanroom glove length is 300mm/12". This length is sufficient for many applications carried out within the cleanroom of life sciences and microelectronics facilities. However, in some applications, such as those involving hazardous chemicals or where there is a high risk of contamination, a longer glove length may be necessary.
Long-length Cleanroom Gloves
When handling hazardous chemicals, such as chemotherapy drugs, the wearer should have increased protection and reassurance from a glove that is 400mm/16" in length, ensuring the entire forearm up to the elbow is covered and protected from the risk of exposure to harmful chemicals. It's also essential to double-don gloves when handling extremely hazardous chemicals to act as an early warning system to identify breaches as soon as possible.
Extra Long-length Cleanroom Gloves
A glove which measures 600mm/24" in length provides extensive arm coverage when handling chemicals such as disinfectants. Wearing a 600mm/24" glove during cleaning within an aseptic environment will reduce the risk of garments becoming saturated with cleaning chemicals due to them flowing down the glove onto the garment, especially whilst cleaning equipment at height or at an angle.
Ultimately, the best length of cleanroom glove for a particular application will depend on the specific risks involved. However, in general, a long-length glove length can provide an added layer of protection and peace of mind.
The Benefits of Longer Cleanroom Gloves
There are several benefits to using longer cleanroom gloves. These benefits include:
Extended protection: Long-length gloves provide more coverage for the arms, which can help to prevent contamination and exposure to harmful chemicals.

Reduced risk of contamination: Long-length gloves create a more substantial physical barrier between the wearer's skin and the controlled environment. This can help to reduce the risk of particulate contamination.

Elimination of additional protective items: Long-length gloves can eliminate the need for extra protective gear like sleeve covers or cuff tape.

Environmental benefits: Long-length gloves can help to reduce environmental impact by eliminating the need for additional protective gear and reduce packaging waste.
The BioClean™ range of Long-length cleanroom gloves
The BioClean™ range of long-length cleanroom gloves is available in 400mm (16 inches) and 600mm (24 inches) lengths. These gloves are designed to meet the requirements of EN ISO 21420 and EN ISO 374:2016, and they are available in latex and nitrile, sterile and non-sterile versions. The BioClean range all meet either 1.5, 1.0 or 0.65 AQL (Acceptable Quality Level) and are suitable for use within the pharmaceutical, life sciences and microelectronics industries.
BioClean™ BNPS - Long-Length 400MM Cleanroom Glove
Elevate your safety standards with the BioClean™ BNPS Sterile Disposable Nitrile Cleanroom Glove.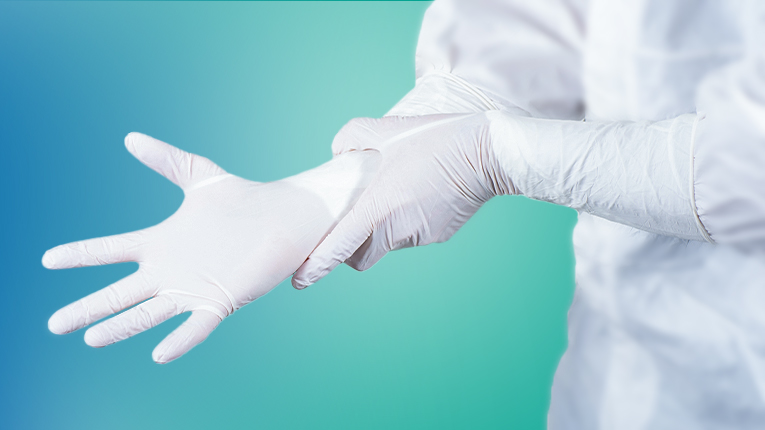 Features & Benefits:
Outstanding Coverage: Featuring an extended long cuff, BioClean™ BNPS provides excellent protection, covering your forearms for optimal safety.
Superior Chemical Protection: Resistant against a range of chemicals and chemotherapy drugs, this glove is your frontline defence in demanding environments.
Assured Sterility: Gamma sterilized to a sterility assurance level (SAL) of 10-6.
Ideal for RABS & Isolator Gloves: Fits seamlessly under isolator gloves and systems, providing an added layer of protection and contamination control.
Experience the BioClean™ BNPS difference - our standout choice within the 400mm glove range. Or click here to discover our complete 400mm cleanroom glove range
CONNECT WITH US REQUEST A SAMPLE
BioClean™ BNMS - Extra Long-Length 600mm Cleanroom Gloves
Designed to protect your arms fully, these gloves are tailor-made for demanding industries like pharmaceuticals, life sciences, and microelectronics.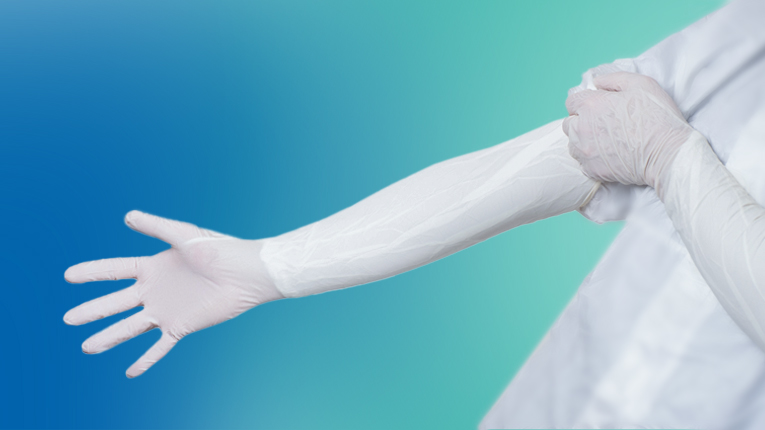 Features & Benefits:
Exceptional Length: With its 600mm/24" length, BioClean™ BNMS delivers unmatched full-arm coverage, heightening your protection during critical tasks.
Electrostatic Dissipative: Maintain the integrity of your components thanks to the dissipative properties that ensures a safe environment for your delicate work.
Compliance Confidence: BioClean™ BNMS complies with EN ISO 374-1 chemical resistance standard.
Ideal for RABS & Isolator Gloves: Fits seamlessly under isolator gloves and systems, providing an added layer of protection and contamination control.
Experience the BioClean™ BNMS superiority - our pick within the 600mm glove range. Or click here to discover our complete 600mm cleanroom glove range
CONNECT WITH US REQUEST A SAMPLE
Choose BioClean™ Long-Length Cleanroom Gloves for Enhanced Protection
The popularity of longer length cleanroom gloves is a result of increased awareness and need for extra personnell or product protection, along with a drive to cut costs and reduce environmental impact.
The selection of cleanroom gloves should not only focus on length but also consider crucial factors like dexterity, tactility, and antistatic properties.
For those seeking comprehensive safety without compromising quality and contamination risk, the BioClean range stands out. Offering a range of long-length cleanroom gloves, BioClean adheres to stringent standards, ensuring that you meet your operational needs.